Although addiction remains a major concern in Australia, more Australians have begun to seek professional help battling their problem. And what might be surprising is that most of these treatment-seeking Aussies opt for addiction treatment abroad rather than in Australia. 
The question remains, though, how to find the best rehab abroad? The simple answer would be The Dawn Wellness Centre and Rehab Thailand. As the leading addiction treatment centre in Thailand, The Dawn has been a favourite rehab destination among Australians for a long time. 
But why do so many Australians seek addiction treatment abroad? There are actually multiple reasons for that. If you're exploring the idea of going on rehab overseas, in this guide, we'll cover the benefits and tips for choosing rehab centres outside Australia. 
Why Do Australians Seek Addiction Treatment Abroad?
With more and more Aussies deciding on addiction treatment outside Australia, one question springs to mind – why? As mentioned, there are several good reasons for that. Let's uncover the most significant factors that tip the scale in overseas rehab centres' favour when compared to treatment options in Australia. 
Change in Scenery
The obvious reason for Australians seeking treatment outside Australia is the change in scenery. Going abroad gives you breathing space, allowing you to recover in a more tranquil environment, far from the triggers and stressors of everyday life, which may be the primary cause of your issue. 
Even the sole thought of travelling abroad to start your new, addiction-free life can be a blessing. It can make you stronger and more willing to adapt to your new reality, place, and culture. For many Aussies, that sounds like an exciting opportunity and an overseas rehab provides invaluable help in that regard. 
Greater Privacy & Confidentiality
Most Australians aren't comfortable with the whole neighbourhood knowing about their addiction. Going to rehab in Australia poses the risk of all your friends, family, and other people learning about your issue. Choosing a wellness retreat in Thailand or another country, on the other hand, isn't as blatant, offering you a more private option. 
Staying in a rehab centre abroad allows Australians who worry about their reputation to recover without worrying about people pointing fingers at them. It adds that extra layer of security and confidentiality to your treatment, as people would think you're on vacation overseas rather than in rehab. 
Lack of Stigma and Rejection
Although Australia isn't known for prejudice toward addiction, there's still some taboo surrounding the subject, especially regarding alcohol addiction. That's because drinking is embedded in Australian culture. Those who refuse to drink at social events are often treated as "downers" who don't want to party. That can make life difficult for recovering Australian addicts. 
Seeking addiction treatment abroad offers Australians a chance to seek professional help without any surrounding stigma and rejection. They can stay at an overseas treatment centre until they are fully recovered and comfortable with their new life without worrying about losing their social status. 
Chance to Experience Wellness Vacation
Going to rehab might have some negative connotations for some people. However, choosing an overseas treatment retreat can automatically change your attitude, creating an illusion of a wellness vacation in an exotic country. Such a change can have a fantastic effect on how one experience treatment, reducing stress and anxiety often associated with rehabilitation programmes.
Moreover, rehab centres outside Australia, such as The Dawn, are often luxurious, offering Australians numerous amenities, such as pools, gyms, yoga studios, etc. Our centre, for instance, is also located in a beautiful and tranquil scenery that further enhances the experience and allows our patients to embrace their new journey. 
How Much Does Addiction Treatment Outside Australia Cost?
Contrary to what many Aussies expect, going on addiction treatment abroad can actually be more affordable than staying in Australia. Due to expensive private care and higher living costs in Australia, rehab programmes Down Under often exceed 40,000 AUD. That is a massive expense that most Australians can't afford easily. 
On the other hand, overseas rehab centres like The Dawn, located in Thailand, can offer the same, if not a higher, level of service while offering lower rehab costs. One of the primary reasons for that is the lower cost of living in Southeast Asia, which allows The Dawn to employ top-quality Western clinicians who can happily earn less while maintaining the same living standards as they would experience back home. 
At The Dawn Rehab, we offer pricing that's only 2/3rd of the price offered by Western facilities. Furthermore, our prices are all-inclusive and include individual treatment, access to all our amenities, meals, accommodation, and extra-curricular offsite activities. We will also pick you up and drop you off at the airport, as well as provide patients on addiction programme meetings with transport to the nearby town. 
Of course, there's also another side of the coin. To reach an overseas rehab centre, you will first need to get there. And that means flying to, as in the case of The Dawn, Thailand. That's an expense we, and other abroad centres, don't cover. This can be a deal breaker for some, although once you start adding up all the expenses, our treatment fees still don't exceed the costs of going to rehab in Australia.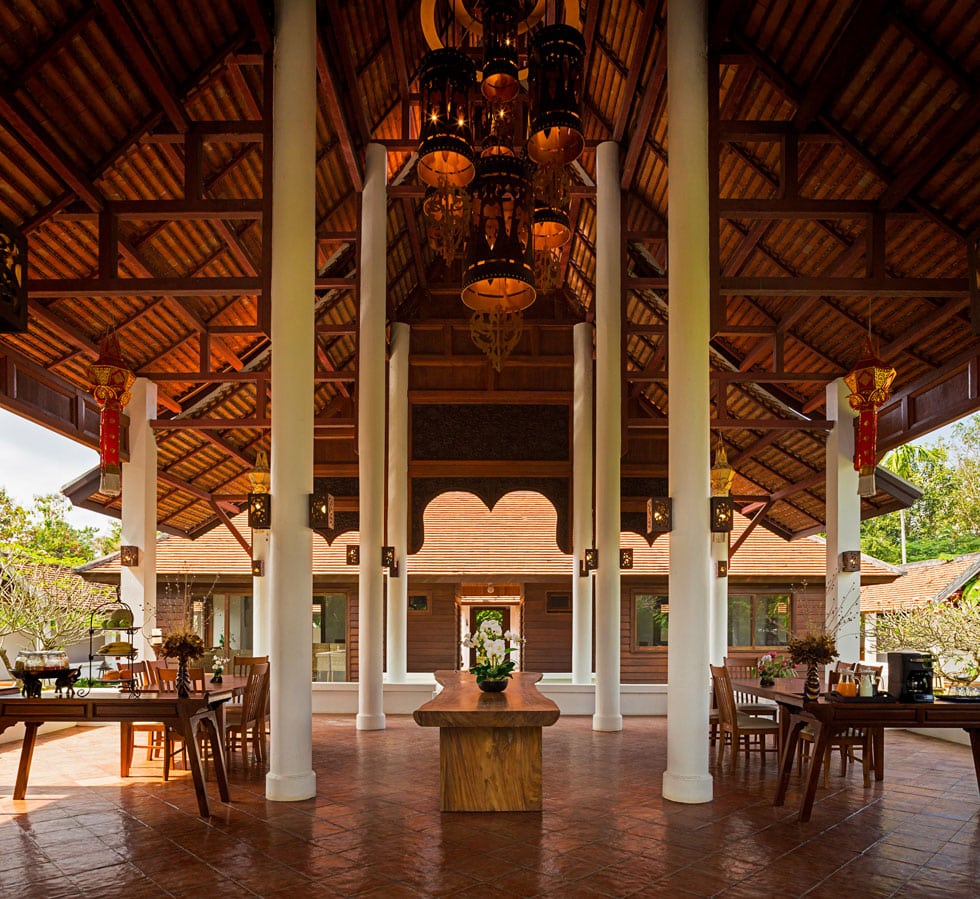 How to Choose the Best Addiction Treatment Abroad for Australians?
Once you've learned about why addiction treatment outside Australia might be a better idea than Australian rehab, it's time to discuss what to consider when choosing your overseas rehab. The most significant factors should be available treatment options, location, licensing, pricing, and amenities. We've already discussed pricing, so let's focus on the remaining four. 
Addiction Treatment Options
The very first thing to ensure is whether an overseas rehab centre offers treatment for your addiction. For instance, some centres focus on alcohol and drug addiction programmes, whereas others specialise in behavioural addiction treatments. At The Dawn, we specialise in all forms of addictions, offering our patients complex treatment options no matter the addiction they're struggling with. 
Our addiction treatment programmes include:
Alcohol addiction treatment, which consists of two primary stages – supervised alcohol detox and addiction treatment supported by holistic treatment therapy;
Drug addiction programme, which includes supervised detox, drug addiction therapy and wellness therapy. We help treat:

Amphetamine addiction
Cocaine addiction
Ecstasy addiction
Heroin addiction
Ketamine addiction
Ice addiction
Marijuana addiction
Prescription drug addiction

Behavioural addiction treatment, which combines cognitive behavioural addiction treatment with holistic wellness therapy. We help treat:

Food addiction
Gambling addiction
Sex addiction
Internet addiction
We also help Australians battle mental health disorders, such as anxiety, depression, PTSD, insomnia, and mood disorders. If you struggle with any mental health issues, either caused by addiction or not, The Dawn's mental health retreat in Thailand is the best option to receive top-quality treatment outside Australia. 
Location
Generally speaking, it's always recommended to seek addiction treatment abroad as close to Australia as possible. First, you don't risk experiencing long journey-related issues, such as fatigue or jet lag. And secondly, it makes travelling much less expensive, ensuring you actually take advantage of lower costs offered by overseas rehab centres.
That is why Thailand is such a brilliant destination for Australians. It's not far away, the rehab costs are much lower than in Australia or Western countries, and the country is beautiful, offering tranquil surroundings perfect for addiction treatment retreats. 
That is why The Dawn's rehabilitation centre is the ideal place for Aussies looking for addiction treatment abroad. Located in the peaceful riverfront sanctuary in Chiang Mai, in northern Thailand, The Dawn offers Australians affordable and top-quality treatment just outside Australia. 
Accommodation & Amenities 
Location is one thing. Another is what you can expect to see and experience once you get there. One of the most significant advantages Southeast Asian rehab centres have over Australian ones is that they offer similar, if not more luxurious, accommodations and amenities at lower prices. 
The Dawn's international rehab centre, for instance, is a boutique complex set on lush green riverfront lawns. Our resort-style accommodations and facilities offer a peaceful and beautiful ambience that promotes physical, mental, and spiritual health. Each patient has a private room with a king-size bed, work desk, flat screen TV, balcony, and daily housekeeping, among a few. 
Furthermore, all our patients have free access to all our onsite facilities, which include a massage studio, group therapy rooms, gym, swimming pool, recreational space, and yoga studio. 
Qualified Staff
Clinical and medical professionals who work with addicted patients must have a unique set of skills, knowledge, and, most importantly, compassion. That is why, when searching for addiction treatment abroad, it's so vital to consider who will run your treatment programme.
When choosing The Dawn, you can rest assured you'll be treated only by the most experienced, knowledgeable, and compassionate medical and clinical professionals. Most of our team has educational and training backgrounds from the most prestigious institutions in the UK, USA, and Australia. 
Our team includes clinical and medical specialists from various fields of expertise, including mental health issues, addictions, and trauma. Our patients are treated by all sorts of professionals, ranging from psychologists and psychiatrists to counsellors and social workers. Furthermore, our medical and support staff is available 24/7, ensuring our patients can always reach out for help during their stay. 
Licensing
Many Australians don't look at whether the rehab centre they intend to travel to has the appropriate licences and certifications. Yet, these serve as a guarantee that the centre is reliable and reputable. We are proud to say that The Dawn is accredited for Psychiatric and Behavioural Health Services by the American Accreditation Commission International (ACCI), an internationally renowned body that oversees clinical excellence in health care. 
How to Apply for Addiction Treatment Abroad?
One of the many concerns people seeking treatment outside Australia have is that the admission process may take much longer than in Australia. And for many abroad rehab centres, that's true. At The Dawn, we understand how important it is to receive help as soon as possible. That's why our admission process is as straightforward as possible, ensuring our patients receive the help they need immediately.
You will just need to follow a few simple steps:
Initial contact. Our admission process begins with a potential patient or their family contacting our staff via email or phone. A trained professional will then ascertain the client's details and history and proceed with an overview of what The Dawn is and how it works. 
Follow-up call. After the initial contact, one of The Dawn's clinical staff will contact the patient to do a clinical assessment of their medical history and mental health.
Delivery of assessment results. The Admission Team then calls the patient to provide them with their clinical assessment results. 
Payment. After the client's medical history and state are checked, an initial deposit is required to secure accommodation and space on one's treatment programme.
Travelling to Thailand. Once the initial deposit is paid, it's time for you to start arranging your travel to Thailand. Don't worry. Our staff is always ready to assist with any travel arrangements, including flight bookings, visa support, and airport transfers. Once you're in Thailand, a private car will transport you to our facility. 
Medical assessment and detox. Once you arrive at The Dawn's facility, you will receive a comprehensive medical check-up and go on a medically supervised detox. 
Key Takeaways
Many Australians opt for addiction treatment abroad rather than in Australia. And there are several reasons for that, with overseas rehab centres offering a much-needed change in scenery, lack of triggers and stressors, greater privacy, and a "vacation-like" experience. Furthermore, rehab centres overseas, especially those in Southeast Asia, usually offer more affordable programmes. 
With all that in mind, it's no surprise that Aussies prefer seeking addiction treatment abroad and not Down Under. And when looking for the best addiction treatment abroad, there's no better choice than The Dawn Wellness Centre and Rehab Thailand.
Located in Northern Thailand in the beautiful city of Chiang Mai, our rehabilitation centre is the perfect place to treat your addiction or mental health disorders. Our luxurious facility has all the amenities one needs to successfully treat their condition, and with all our staff members being top-quality professionals, you can rest assured you or your loved one are on the right path to full recovery. 
Contact us today and learn why The Dawn has been the top destination for overseas addiction treatment among Australians for years. 
Q: When to know I need to go on addiction treatment abroad?
A: Whenever you notice the following signs in yourself or your loved one, it means it's time to seek professional addiction treatment abroad. Namely: severe withdrawal symptoms, addiction negatively affecting your social life and work, constant cravings toward a substance or behaviour, losing interest in favourite activities and hobbies, mood changes, trouble sleeping, and putting yourself in dangerous situations to satisfy your cravings. 
Q: Why do Australians choose overseas rehab centres?
A: Although staying in Australia for addiction treatment might seem like a more convenient and affordable idea, going to overseas rehab has several advantages, including greater privacy, change of scenery, lack of triggers and stressors, no surrounding stigma and prejudice, and a more luxurious and peaceful experience. Furthermore, when going to rehab in Southeast Asia, e.g., Thailand, Australians can expect to pay approximately 2/3 of the price they would have to pay for treatment at home while enjoying the same, if not higher, level of care.
Q: What is the best abroad addiction treatment destination for Australians?
A: Aussies have tons of options when looking for an excellent addiction treatment destination, including the United States, South Africa, Switzerland, or Spain. However, since most rehab centres require their patients to cover travelling expenses themselves, it makes more sense to find a location nearby Australia. That is why most Aussies choose Southeast Asian countries, especially Thailand. With its beautiful scenery, wonderful culture, and incredibly affordable treatment costs, Thailand is by far the best addiction treatment destination for Australians seeking overseas rehab. 
Q: How much does rehab cost in Australia?
A: One of the most significant benefits of going to rehab in Thailand is the lower overall cost of treatment compared to rehab programmes in Australia. However, how much does rehab in Australia actually cost? That will depend on the state, the programme (residential or non-residential), and the accommodation. In most cases, Aussies can expect to pay anything between 15,000 AUD and 65,000 AUD, with more luxurious programmes costing even more. In comparison, The Dawn's all-inclusive treatment programme costs 1/3 of the highest rehab costs in Australia. 
Q: Are there any cons of addiction treatment abroad?
A: Although going on addiction treatment abroad has numerous advantages over Australian rehabs, many Aussies have concerns regarding overseas rehabs. The most significant downside is that most rehab centres don't cover travelling expenses, which means that patients need to pay for flights themselves. Another problem might be difficulty in adapting to a different culture, timezone, and, sometimes, language. There's also the case of having to fully engage in one's treatment programme. If someone wants to continue with work or school while recovering, rehab abroad doesn't really give one that option. Some people may also feel homesick, which might cause stress, negatively affecting treatment.