Thailand Rehab Centre Effective Thailand Addiction Treatment in the Tropics
For many of the 240 million people worldwide who struggle with addiction, even acknowledging that they have a problem is a daunting prospect. Denial is an inherent part of this disorder, and while you are in its midst, it can be difficult to see how much it is throwing your life off balance. With the support of our compassionate staff and comprehensive addiction treatment, you will be able to understand the ways in which your addiction has been affecting you, your life's work and the people you love. We will give you the tools you need to repair the damage it's done, and confidently manage your life without the use of drugs and alcohol going forward.
The Dawn, the best rehab abroad, isn't like other, larger rehabs. Here, we emphasise community, with a deep understanding of how crucial it is to your healing process. We limit the number of clients who stay with us to no more than 35 at any given time, meaning your therapy groups will be more effective due to smaller numbers and you will find it easy to get to know everyone here. You will feel right at home in our cosy community of staff and peers who all want to see you succeed.
We understand that every individual has a unique personality, life story and situation. That is why our all-inclusive addiction treatment is fully customised to meet your specific needs. When you arrive, we conduct a thorough assessment to determine the best course of action for you. Your therapist will then design a treatment plan, which they personally oversee and adjust accordingly throughout your stay.
Our treatment plans incorporate a range of evidence-based therapies and wellness activities. These can include things like yoga, meditation, fitness classes, and art and music therapy. These activities can help with the physical and psychological symptoms of addiction, equipping you with healthy ways to manage your emotions and cope with stress.
We provide the following treatment services:
THAILAND ALCOHOL ADDICTION TREATMENT
Because alcohol is widely socially acceptable, unhealthy drinking behaviours often go unnoticed for some time. Common signs of alcoholism include drinking more than you intend to on a regular basis, failed attempts to stop drinking, an increased alcohol tolerance, neglecting responsibilities because of alcohol use and feeling uncomfortable when you're unable to drink. Though high-functioning alcoholism often leads people to believe their drinking isn't a problem, alcohol abuse is very unsafe and can lead to physical injuries, health complications and interpersonal issues. At The Dawn, our Thailand alcohol addiction treatment program is designed to address these challenges head-on.
Withdrawing from alcohol can be dangerous and even life-threatening, which is why supervised detox is recommended for those with alcohol dependency. We will conduct an initial assessment to determine whether or not detox is necessary in your situation. After this essential first step of clearing your body of the presence of alcohol, you will be ready to begin alcohol addiction treatment. With our comprehensive approach, you can transition smoothly into the next phase of your addiction treatment in Thailand.
DRUG ADDICTION TREATMENT IN THAILAND
Drug addiction is a chronic, relapsing disorder that involves compulsive drug-seeking and drug use despite its undesirable effects on your life. Drug addiction changes your brain's function and structure, which can make it incredibly difficult to stop using without help. Many people who try to quit without proper treatment, education and aftercare, eventually end up relapsing. The Dawn's addiction treatment programs are shaped by our nuanced understanding of addiction's complexities.
For people who are chemically dependent, have been using for a long time, or are using substances like opioids or benzodiazepines, medically supervised detox is required to safely come off of the drugs before beginning addiction treatment. Withdrawals from these substances can be dangerous and uncomfortable, and are a major cause of relapse. At The Dawn drug rehab center Thailand, our caring medical team will monitor your detox process closely and make sure you are safe, supported and comfortable throughout the entire process.
THAILAND BEHAVIOURAL ADDICTION TREATMENT
Addiction to processes like eating, sex, gambling and internet-based activities can have consequences that are as serious as those of drug addiction. These compulsive behaviours can damage your health, relationships, finances and professional life. Unhealthy behavioural patterns change the way your brain functions, and stopping them is more than a matter of mere willpower – which is why comprehensive, professional treatment is necessary to understand and correct them.
Recognising the serious consequences of behavioural addictions, The Dawn in Thailand provides targeted treatment programs. We strive to help individuals understand and change their unhealthy behaviours, paving the way for a healthier, addiction-free life.
Dual diagnoses, or co-occurring disorders, are when addiction occurs alongside a psychological disorder such as anxiety or depression. It is crucial for people with dual diagnoses to receive treatment that carefully addresses both disorders, since neglecting to focus on one or the other ultimately makes treatment ineffective.
Why Residential Rehab Center Thailand is the Most Effective Way
to Overcome Addiction
When making a major life change like reversing long-held patterns of substance abuse, it is best to do so in an immersive way – and residential (also known as inpatient) addiction rehab Thailand provides just that. While those in outpatient treatment still live at home during therapy, they are continually exposed to their triggers for using along with the availability of drugs and alcohol. Inpatient treatment offers more intensive treatment and completely removes you from your triggers. You will be supported by qualified addiction experts and experienced recovery support staff throughout your stay. And you will be an integral part of a community of sober peers who are dealing with similar struggles and are available to lend an open ear or helping hand whenever you need it.
Choosing an addiction centre in Thailand offers the benefit of a serene and supportive environment, far removed from the stressors of your daily life. This geographical distance can provide a much-needed break from your usual environment, allowing you to focus solely on your recovery.
Read our Complete Guide: How to Find the Best Rehab Abroad in 2023
Why Go Abroad For Addiction Treatment?
Seeking treatment abroad can offer unique advantages. High-quality care is available often at a more affordable price compared to domestic options. The relaxed atmosphere of a foreign locale can also significantly enhance the recovery process. To learn more about the many benefits, read our article on the Benefits of Rehab Abroad.
Holistic Rehab Center in Thailand – The Ideal Place for New Beginnings
The Dawn is located just outside the city of Chiang Mai, Thailand, surrounded by green rice fields and old-fashioned villages. Here, you will be soothed by the sounds of the gently flowing Ping River, refreshed by the fresh air charged with calming negative ions and revitalised by the splendour of nature. Restoring your mind to a peaceful state in this environment is just what you need to create a healthy space away from your usual habits and patterns.
The Thai philosophy of 'Sabai', which translates to a contented ease of mind, is woven into our approach to treatment. This unique blend of serene environment and cultural immersion makes The Dawn the perfect spot for new beginnings.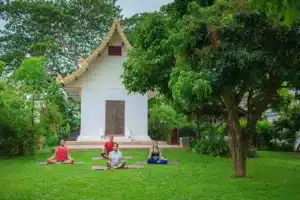 Although addiction remains a major concern in Australia, more Australians have begun to seek professional help battling their problem. And...
Read More »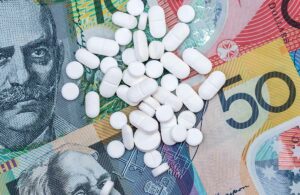 Addiction is a complex illness that affects millions of people globally, including Australians. It can have devastating effects on individuals...
Read More »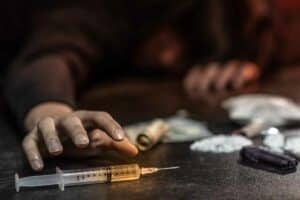 Substance addiction and abuse might be global problems, but few developed countries have struggled with them as much as Australia....
Read More »
FIND OUT HOW WE CAN HELP YOU. REQUEST A CALL BACK NOW.