You are serious about beating your addiction, but also unclear as to exactly how much time you will need to devote to your recovery. With options available for 1- 3- and even 6- month-long programs, how do you know which one is best for you? Here's a guide to help you decide.
Addiction is a complex disorder that requires comprehensive, holistic treatment. So what does that mean in terms of the length of time you need to spend in rehab? Is it possible to overcome substance use disorders in just one month? Why aren't all inpatient treatment programmes the same length? Understanding how treatment is structured – and how recovery works – will help to answer these important questions when you are considering your rehab options.
Current Trends in Addiction Treatment
Currently, many treatment programs are longer than the better-known 28-30 day period. With scientific studies showing that a long-term rehab program is more conducive to a lasting recovery, it's now common for a rehab center to recommend 3 month or 6 month rehab programs. This is mainly due to the broadened understanding of addiction as a chronic disease that benefits from comprehensive, in-depth treatment.
In fact, the 30-day model largely originated from administrative restrictions around leave periods rather than a research-based recommendation for what is most effective. Today, treatment centers understand that treatment options need to be as multi-faceted as the individuals seeking them, and strive to avoid a "one-size-fits-all" approach to recovery.
Exploring Rehab Options
Treatment centers typically offer a range of rehab stay options, with shorter programs running around 30 days, mid-range programs extending to 90 days, and longer-term operating as a 6 month rehab program. Here are some of the key features of what these programs offer:
1 Month Rehab – Entering the Stabilisation Phase
For people who have developed an addiction to drugs or alcohol, the first 30 days of treatment is critical in helping the individual safely detox. Detoxing from certain substances, such as alcohol, benzodiazepines, and opioids, requires medical supervision and potentially the prescription of other medications that can alleviate symptoms of withdrawal and make the process more comfortable.
During this time, an initial assessment of your presenting issues is made, and your therapist will work with you to help identify triggers for your addiction. Many treatment centers will use a holistic approach to treating addiction, engaging both the mind and body in the healing process. Depending on the mildness or severity of your withdrawal symptoms it could take between one to two weeks to settle into substance abuse treatment, which is when the psychotherapeutic work can truly begin.
In the first 30 days, you'll learn coping skills through evidence-based treatment options like cognitive behavioural therapy (CBT), which focuses on identifying and changing problematic thought and behavioural patterns. However, there is typically not enough time to dig into the root causes of these patterns in a 30 day programme. 
As you're attending both individual and group therapy sessions, your treatment plan will also typically include body work to help re-establish a healthy mind-body connection, and provide new ways to cope with stress. This can include practices such as mindfulness and breathing, meditation, and yoga to calm your nervous system, give you techniques to ground yourself in stressful or triggering situations, and effectively ride out cravings.
Finally, you and your focal therapist will put together a relapse prevention plan, and grant you access to online aftercare support before you leave the rehab facilities and return to life outside.
90 Days or 3 Month Rehab: Working on Underlying Issues or Trauma
Compared to a 30-day stint in rehab, entering treatment for 90 days will always ensure a stronger recovery and significantly decrease the chances of relapse. These better results occur for two main reasons.
The first reason revolves around how long it takes to form a new habit or pattern of behaviour. Studies have shown it takes approximately two months to form a habit, and at least 90 days to fully incorporate it into your lifestyle. The more complex new habits are, the longer they take to settle in, which is why a lengthier stay in rehab is more conducive towards establishing firm new patterns of thoughts and behaviour around sobriety.
The second reason is the length of time needed to stabilise yourself mentally and emotionally during treatment in order to start exploring the root causes of your addiction. Often, people seeking substance abuse treatment are unaware of root causes, dismissing or repressing childhood trauma or other traumatic events. Working with a therapist at your rehab center can help you work through your past to understand what has contributed to your addiction, and how to address these causes in order to change your future behaviour. 
When these two issues have been attended to, rehab clients have a strong foundation for a sustainable recovery. This initial 90-day period, which combines detox, initial assessments, mind/body work, and an exploration of root cause issues, is known as the primary treatment phase.
6 Month Rehab Program: Accessing Primary and Secondary Treatment
A 6-month rehab program gives most people their best chance at a successful recovery. Whether you're looking for 6 month alcohol rehab programs or 6 month drug rehab programs, any 6 month rehab program will encompass the primary phase of treatment, as well as a critical secondary phase.
This secondary phase, or transition phase, is a critical period in recovery. For most people, the early days of recovery are a vulnerable, emotionally challenging time that carries a significant risk of relapse. Having professional help readily available during a measured transition back to daily life greatly improves the chances of lasting sobriety.
By the end of primary treatment, rehab clients are typically ready for the next step in their treatment plan; a step-down programme. At The Dawn Wellness Centre and Rehab for example, our sober living programme offers a safe, supportive environment by which clients can reintegrate to life outside of treatment at their own place. During the secondary phase of treatment, you'll live on site, but have the freedom to come and go as you choose. You'll have regular access to support groups and professional therapists so you can process your emotions and experiences in real time with people who truly understand what you're going through and know how to support you.  When you're ready to return home, you'll benefit from aftercare support in the form of online sessions designed to help you stay the course you've set in treatment.
Participating in a 6-month-addiction-treatment option is a transformative experience for clients, one that sees them all the way through the first days of detox to a guided transition into finding their footing in sobriety. This in-depth program fully prepares people to live a successful, sober life, with all the tools they need to maintain a healthy recovery.
Preparing for Long-Term Recovery at The Dawn Rehab Thailand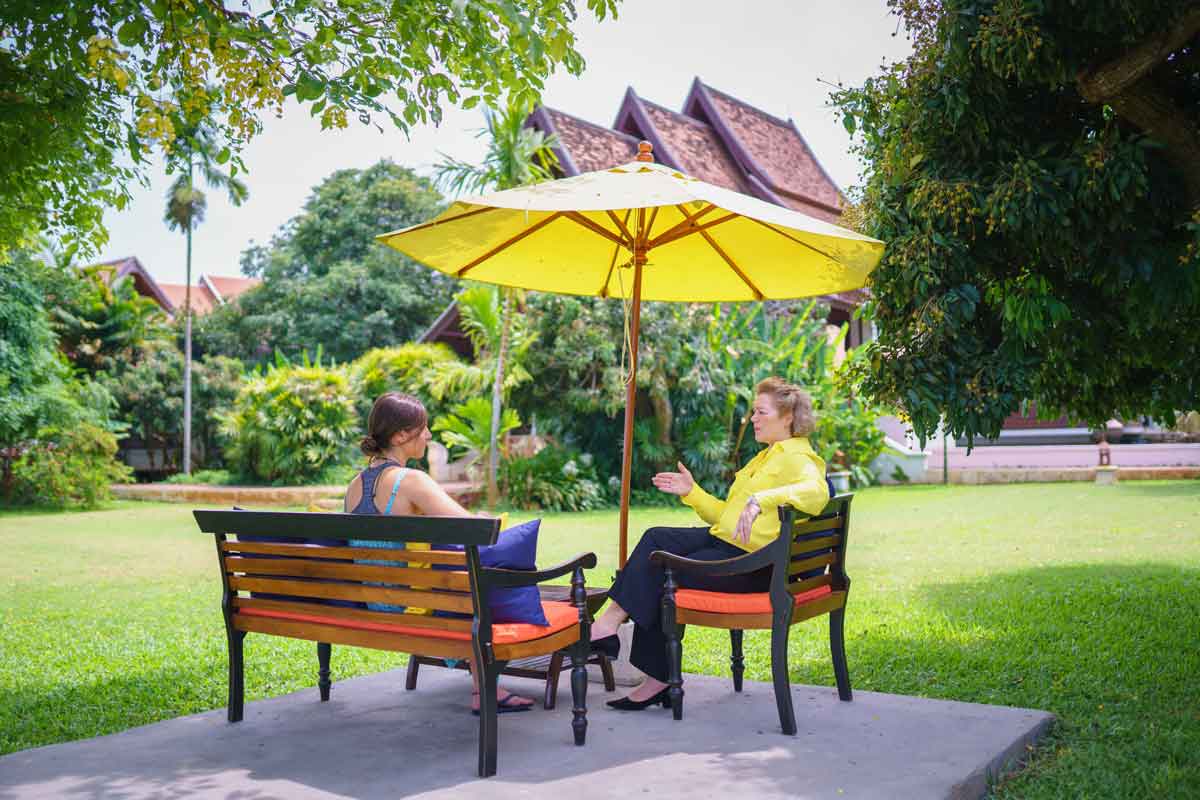 The Dawn Wellness Centre and Rehab Thailand offers unique, effective addiction programming designed to help you get to the root of your addiction and develop healthy, lifelong coping skills. The Dawn takes a holistic approach to addressing mental health and addiction issues, using proven psychotherapeutic methods together with wellness practices to strengthen the mind and body. 
Located on a peaceful riverside property in Chiang Mai, Thailand, The Dawn offers a premium yet affordable rehab programme with experienced, internationally-trained staff. The Dawn is internationally accredited by the American Accreditation Commission International (AACI), a widely recognised body overseeing clinical excellence and provision of health care, and nationally licensed by the Thai Ministry of Health.
Taking Advantage of a Long-Term Rehab Center Abroad
The Dawn offers long-term rehab abroad that focuses on in-depth treatment and further guidance through the continuum of care, which includes medically-assisted detox, addiction and mental health treatment, a step-down programme, and an aftercare plan. This means that instead of spending just four weeks in treatment and then heading home, the rehab model is extended, flexible, all-inclusive and can be shaped based on the unique needs of the client. Whether you're looking for 6 month alcohol rehab programs, or 6 month drug rehab programs, The Dawn has it covered.
Call The Dawn today to learn more about how you can benefit from our comprehensive and compassionate programmes.