People struggling with drug and alcohol addiction face an uphill battle in their quest to break free from their compulsive behaviour. Feelings of guilt or shame can interfere with the effort needed to focus on sobriety, and temptations from familiar sources can also be a distraction for those making the effort to quit. 
Sometimes the best way to begin an addiction recovery is through the promise of a new beginning, in a brand-new location. Thailand represents an ideal starting place for many people, as Chiang Mai rehabilitation centres offer just the right balance of the comfortable and the exotic to keep clients motivated as they rediscover the path to healthy living.
The Appeal of Drug Rehabilitation in Chiang Mai
Top-rated Tourist Destination
Cooler weather, delicious food, distinct culture and delightful natural scenery inspire all kinds of visitors to appreciate Chiang Mai as an attractive travel destination. Life in the tropics moves at an easy pace, and the pressures of the modern world are far away indeed. As much of the addiction recovery requires focus and delicate mental adjustment, these peaceful surroundings are often integral to a successful recovery.
Buddhist Tradition and the Mindfulness Movement
Addiction recovery and rehabilitation are both closely related to the mind, in terms of personal needs as well as impulse control. Mindfulness training is therefore essential to the healing process, as people suffering from process and substance addictions can learn to break free from their harmful behaviour by cultivating mental discipline and positive thought patterns.
Thailand's embrace of Buddhist thought and tradition is therefore particularly well suited to addiction recovery and rehabilitation, which require patience, emotional stability, and the development of a durable inner tranquillity.
A Variety of Fun Activities
Even during recovery, however, day-to-day life requires some sort of personal stimulation. Chiang Mai's rich natural environment means that rehabilitation centre is able to offer a variety of genuinely interesting activities. These include elephant rides, jungle walks, boat rides, art galleries tours, shopping excursions, visits to nearby villages and hill tribes and more. With so many recreational activities available, Chiang Mai is indeed a paradise for those who enjoy the outdoors.
Holiday in the Land of Smiles
For those looking to keep their rehab experience private, these recreational activities offer the perfect cover story: People can tell their friends they are just going to Thailand for a holiday, and bring back some typical tourist photos to make their Chiang Mai rehab experience seem like an ordinary vacation. With an international airport and domestic transportation options within easy reach, this marriage of necessity and convenience often proves to be the perfect solution.
Choices, Choices: Which Chiang Mai Rehab?
Chiang Mai rehab reviews tend to focus on the variety of experiences on offer, since different approaches appeal to different people. From bare-bones options to luxury resort-style treatment centre, Chiang Mai offers plenty of choices for clients with all types of preferences.
Although the Chiang Mai rehab cost is highly variable depending on the level of comfort offered by each facility, the choices have one key element in common: they each cost far less than what a comparable service would cost in Australia or the UK. Thailand's economic status, which is somewhat below those of the west, allows for world class, high-quality treatment at very affordable prices.
That said, luxury is certainly available for those seeking it. Prices typically range from around $1,300 per month to over $14,000 per month at the extreme ends, with most options falling between $6,000 and $12,000. Some are small, family-run facilities with as few as 10 beds, while others have up to 120 beds and feel like an enclosed community.
Some Chiang Mai rehab centres offer only intensive group therapy with shared accommodation, while different centres take a more balanced approach to treatment, and have private accommodation options available. Still others cater only to those who have already completed a primary detox programme, and are looking to continue their recovery through mindfulness training.
The prevalence of rehab options in Chiang Mai provides an additional bonus. Following (and indeed, during) treatment, it is often highly beneficial for clients to participate in regular Alcoholics Anonymous or Narcotics Anonymous group meetings. This helpful support network is an invaluable resource for addicts in the area, providing essential assistance long after rehab has ended.
How to Choose a Detox Program in Chiang mai
There are many things to consider when it comes to choosing the best rehab for yourself or your loved one. Generally, Chiang Mai rehab centres will use standard psychotherapy and 12 steps to help clients recover from addiction and mental health issues. The quality of this treatment is of utmost importance, as is the centre's ability to cater to each client's specific needs.
As a general rule, the best service can be found at rehab centres whose therapists are specialised in addiction and related fields. The availability of medical assistance is also essential, and it is recommended to select a rehab centre whose size and staff-to-client ratio allows for responsive, round-the-clock care.
In addition, because each individual has different personal and interpersonal needs, the ideal rehab centre should offer a variety of treatment options to accompany the main psychotherapy programme.
Integrated treatment can effectively address co-occurring disorders, while also helping patients discover new sources of happiness through various physical and spiritual wellness activities. Clients should choose a rehab centre with a team of qualified staff that is available and responsive whenever they are needed.
As addiction recovery is a long and delicate process, it is worth checking to make sure that your rehab centre of choice also offers an aftercare programme for continued support over time. Other items to look for include comfortable accommodation, as well as a centre that offers high quality all-around services for a reasonable price.
Making a New Start
Addiction recovery is difficult enough without also encountering the stresses and temptations of ordinary life. A stressful or traumatic event, a painful relationship, the burdens of the workplace – these can all lead people to seek the type of short-term fulfilment that leads to addiction and mental health issues.
By checking into a Chiang Mai rehabilitation centre, addicts seeking support and recovery will discover an excellent way to start fresh. The new and peaceful surroundings available at Chiang Mai rehab centres can give people a major advantage as they pursue their goal of breaking free from addiction.
The Dawn Rehab in Chiang Mai, Thailand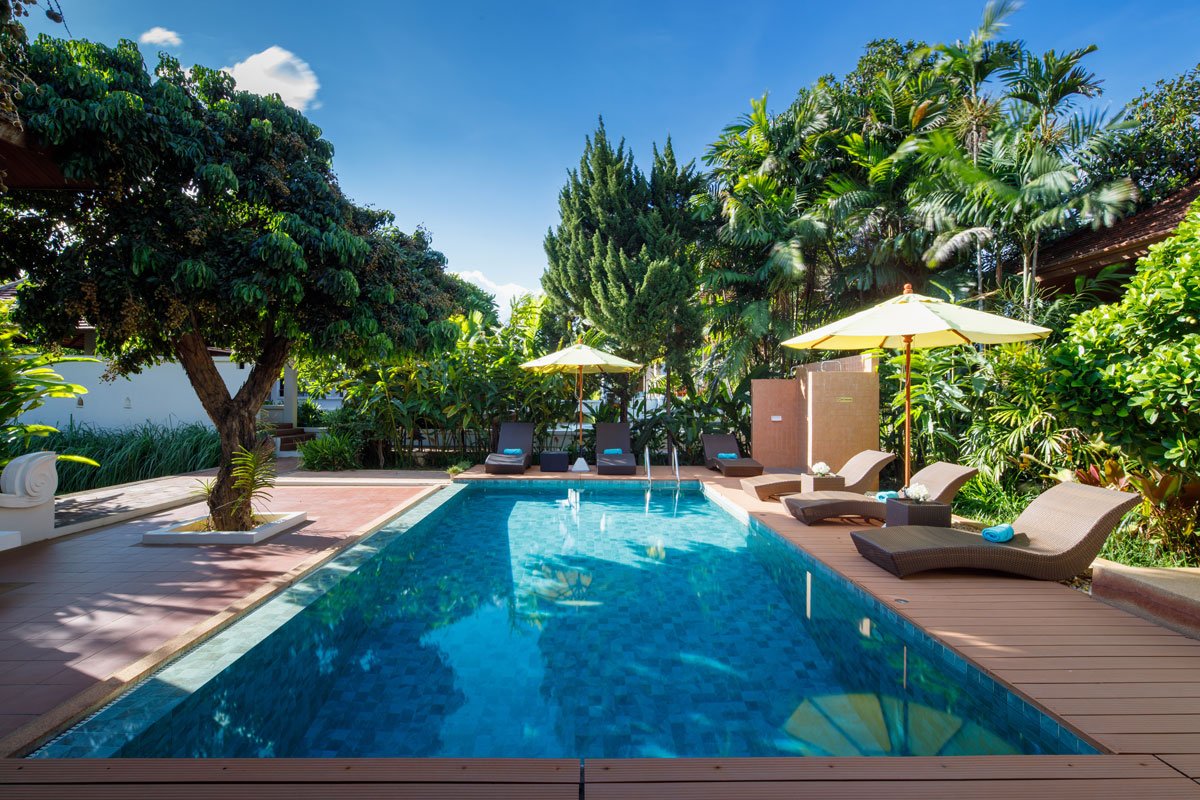 As one of the premier Chiang Mai rehab centres, The Dawn offers holistic treatment that combines eastern and western methods. Using evidence-based CBT as part of its Twin Pillars approach to addiction treatment, The Dawn also lets clients enjoy the full range of benefits provided by its natural Chiang Mai setting. These include regular outdoor exercise, yoga and meditation sessions, village visits, swimming and hiking opportunities, and plenty of wholesome Thai cuisine to nourish the body back to good health. The combination of effective addiction treatment methods alongside peaceful wellness activities makes The Dawn a unique experience. 
With 20 private rooms, a sober house on location, and plenty of activities to enjoy, The Dawn provides personal care in a quiet riverside setting. For more information about our addiction treatment programmes, contact us today for expert help.