The pressure of the last couple of years have pushed many to their limits, with stress, anxiety, and depression skyrocketing. This has spurred a large-scale reckoning on mental health, and opened space for frank discussions on recognition and treatment of related issues. This year, find out which of several topics will factor heavily into conversations on mental wellness.

When was the last time you talked to someone about mental health? Whether it was a conversation about your mental health, or a friend's or a loved one's – chances are it wasn't long ago. The effects of the pandemic have helped propel discussions about mental health and wellness to the forefront  over the last two years. As people around the world have struggled to cope with isolation, economic downturns, anxiety around physical health, and ongoing uncertainty, important narratives around protecting and addressing mental health have increased. In 2022, several key trends in mental health are emerging in response to current needs.  
Trend 1: Trauma-informed Care
With close to 61% of adults experiencing at least one traumatic event in their lifetimes, and one in six adults experiencing four or more during childhood alone, there is a clear need for awareness and treatment of the impacts of trauma. As women and people from minoritised communities are at greater risk for experiencing trauma, understanding and treatment tailored to the specific experiences of these individuals is also critical. A trauma-informed approach is most effective when it identifies and works with the strengths of the client to help address and overcome the effects of trauma, and conversations about this type of care will likely also include further exploration of the individual seeking treatment as well as specific methods of treatment.
Trend 2: Reduced Stigma around Mental Health Issues
More people are coming forward to share their stories about their mental health, using social media and other public platforms to discuss topics previously considered taboo. Celebrities, professional athletes, and other prominent figures are also joining the conversation, talking about trauma, depression, anxiety, bipolar disorder, suicidal ideation, addiction and mental health treatment in candid terms. 
While public figures are helpful in raising the visibility of mental health issues, it can be the frank admissions of everyday people that can be more relatable and therefore more likely to pull other people into the conversation around mental health. Whatever the starting point, the more normal it becomes to talk about mental health, the more likely it will be that people will be able to identify mental health needs and seek treatment when necessary.
Trend 3: Social Media Boundaries
If you hadn't pushed the limits of social media usage before the pandemic, it is likely you are now. Whether you got caught up in "doom scrolling," endlessly checking negative news or posts, or you relied on it for staying connected through lockdowns and activity restrictions, we have all found that we are using our phones more than we'd like to – and in some cases, we have developed a raging screen addiction. Discussions about how to step back from our screens, limit our exposure to unhealthy online interactions, and valuing and protecting our privacy will be a critical part of the mental health conversation in 2022.
Trend 4: Holistic Approach to Mental Health
Mental health isn't just all in your mind – it's in your body, your relationships, and the world around you. This year will focus on seeing and understanding how this is all connected, and getting serious about supporting positive steps towards better overall wellness. This holistic approach will turn the focus away from linear diagnoses involving pills and procedures to a more robust discussion that recognises the intertwinement of mental and physical health. This is an important shift that could have profound impacts in the ways we pay attention to and take care of ourselves.
Trend 5: Mental Health Apps
The rapidly increasing interest and attention related to mental health has not gone unnoticed by entrepreneurs, resulting in huge growth in the availability of mental health apps. The American Psychological Association estimates that there are around 10,000-20,000 mental health apps currently on the market. Many of these are unregulated, so the quality can vary significantly from app to app, and research is being done to see how effective they are in connecting people with mental health support. With a significant number of challenges and opportunities related to these new technologies, this year will likely see discussion of both as work in this field continues.
Trend 6: Transcranial Magnetic Stimulation
An increasingly popular way to address treatment-resistant depression, transcranial magnetic stimulation (TMS) is a gentle, non-invasive method of stimulating the brain to produce a favorable response to several mental health issues. In recent years, TMS has been used to treat depression, attention deficit hyperactivity disorder (ADHD), bipolar disorder, and obsessive-compulsive disorder with solid results. As rates of depression continue to rise, it is likely that TMS will become a more standard method of treatment, particularly for those who aren't seeing progress with traditional medication options.
Trend 7: Mainstreaming Mental Health at Work
The visibility of mental health in the workplace has been clearer than ever during the pandemic, as workers struggle through endless days on Zoom, working from home while trying to juggle family responsibilities, or having to go in to a workplace where they may be exposed to Covid. This has pushed many workplaces to begin to adjust policies to be more supportive of mental health needs in order to avoid burnout and turnover. Companies may offer "mental health days," Zoom-free days, counselling or other mental health resources, passes to fitness centres, or other perks or services in order to promote good mental health practices among its employees. 
Exploring Your Options at The Dawn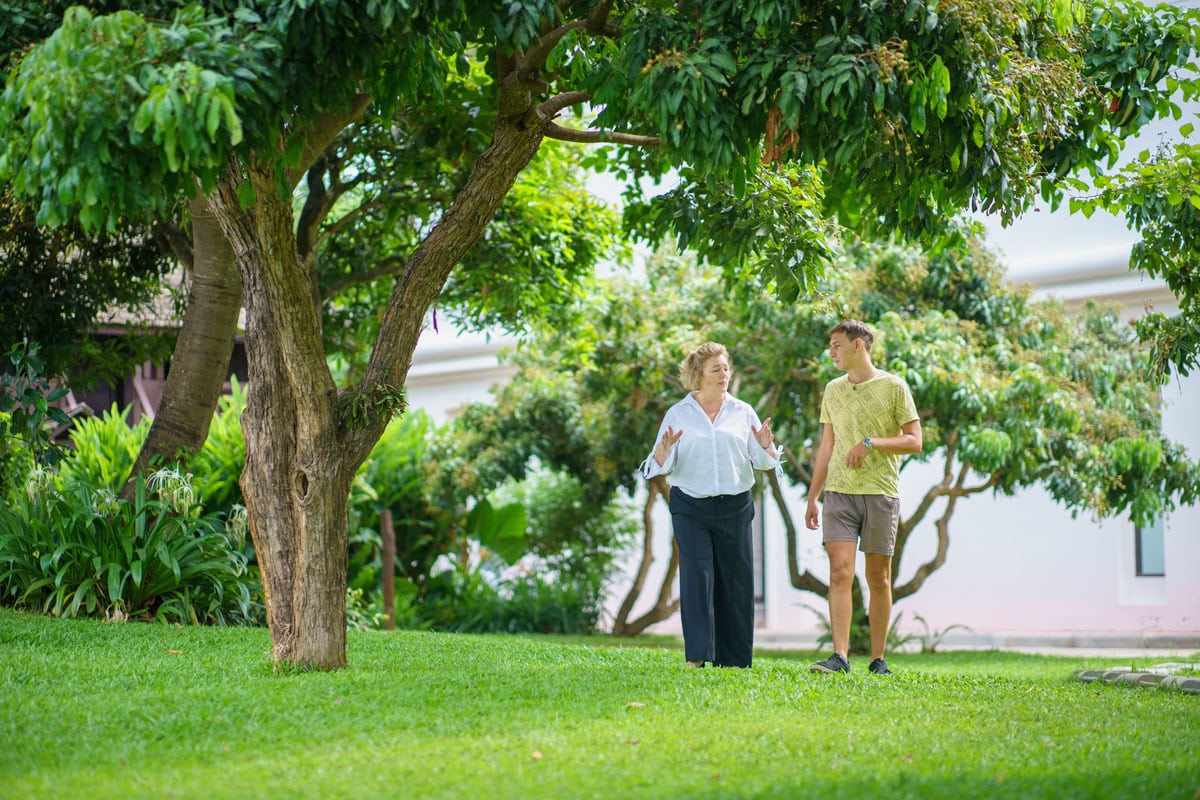 The Dawn Wellness Centre and Rehab in Thailand is a holistic inpatient mental health treatment centre which is internationally accredited by the American Accreditation Commission International. The Dawn is staffed by a Western team of health professionals with broad experience in the field of mental health and addiction. Our team regularly updates its skills and knowledge in order to offer clients the most effective and relevant treatment options possible.
Seeking Mental Health Treatment at The Dawn
Our clinical team has created a programme which uses a mix of the most effective psychotherapeutic techniques and wellness practices with optional TMS therapy to ensure holistic healing. At The Dawn, we'll work closely with you to develop a highly personalised treatment plan to identify and address the root causes of your mental health concerns, learn healthy coping skills, and help you start feeling better almost immediately.
If you are feeling overwhelmed and unable to manage your mental health effectively on your own, call The Dawn today to talk more about what options will work for you.