One major decision to make when choosing a treatment centre is whether to look for one close to home or travel for rehab to a different area. You may be asking yourself, "should I travel for addiction treatment?"  There are valid reasons for travelling for rehab, as well as staying close to home. The treatment options that are right for you depend largely on your own situation and priorities. 
A myriad of factors will affect your decision whether to undertake rehab abroad or in your home country. These include your professional and personal responsibilities, budget, and severity of your addiction, among others. Figuring out whether or not heading to another country for rehab can be quite the headache, especially for someone dealing with addiction or mental health issues. Here are some questions that can help you decide whether travelling for addiction or mental health treatment is a good idea for you.
Can you take time out from your life?
If you plan to commit to an inpatient programme, it's absolutely necessary to be able to step away from your regular life for a while. That means being able to take time away from work, school, family, or other obligations. If you are struggling with addiction to drugs or alcohol, or mental illness, prioritising recovery is the best thing you can do for both yourself and your family, but for some people, putting their responsibilities on hold is just not possible. Single parents, people working for an hourly wage, and students who need to meet scholarship obligations are common examples of people who don't have the luxury of focusing entirely on recovery by travelling for rehab. For people in those types of situations asking themselves "should I travel for addiction treatment?", an intensive outpatient program at a local rehab near home is often a better choice. It allows them to juggle their other priorities while addressing their mental health issues or addiction.
If you are considering travelling for rehab, the length of stay typically varies between 30-90 days, depending on the severity of your addiction, as well as how many different stages of treatment occur onsite. Those who prefer support beyond basic early treatment will typically stay more than 30 days when they travel for rehab as part of their overall treatment plan.
How much do you value your privacy?
One major advantage of travelling abroad for treatment is that you are unlikely to run into people you know. When you are farther from home, there is less chance people will know you are getting treatment for addiction or mental illness. Getting treatment is, of course, the most responsible thing you can do. Well informed people know that addiction and mental illness are just some of life's many challenges. However, they also know that not everyone sees it that way. If your livelihood depends on your reputation, and you are concerned that seeking treatment for addiction or mental health issues might be a liability, travelling for rehab is an extra safeguard for your privacy. Not only can you distance yourself from prying eyes, but you can plausibly say you are taking an extended vacation, which, in a sense, you are.
There are many ways to protect yourself from unwanted attention or judgment related to undergoing addiction or mental health treatment abroad. It's perfectly understandable for you to feel like your reputation would be damaged by rumors going around about you being in rehab. The added privacy is one of the major benefits of going to rehab abroad.
How hard is it to avoid triggers? 
This one is especially important for people recovering from addiction, but it might apply to other situations that cause you stress and anxiety as well. People recovering from addiction sometimes find that wherever they turn, there is an old temptation – friends who still drink or use, old haunts that call to you when you pass, and situations that cause you stress. When you are asking yourself, "should I travel for rehab?" remember that getting far away from the triggers of home can give you the necessary space to begin healing while being surrounded by a positive support system. A change in scenery can cause a change in perspective. Travelling for rehab is a way of making a clean break from old habits, and a chance to begin cultivating a new, healthier outlook. 
Rehab abroad can help you distance yourself from your own troubles at home, surrounded by professionals and like-minded individuals. It will allow you to focus on getting better, without all the distractions and triggers you would experience back at home. This is particularly important for addicts who feel trapped in their condition, with everything around them reminding them of their substance of choice. If that description fits your circumstances, then going to rehab abroad can be the best chance for you to break free from the chains of addiction. 
While mental health troubles differ fundamentally from addiction, they have one thing in common: both can be triggered by external factors in the patients' lives. Work-related stress, relationship issues, or even the general state your home country is in can open up old wounds and take you down a spiral of misery. When you leave your country to undergo treatment, you'll leave all of those things behind, putting a tangible distance barrier between yourself and your triggers. As you progress through the program, you will become better-equipped to deal with them as you return, and can count on a strong support system to help you transition back to your daily routine.
What are your preferences regarding treatment?
If you want to stay near home for treatment, you are limited to what's available in your area, but if you are willing to travel for rehab, you can be pickier about your treatment, including the staff, the treatment methods, the facilities, the lodgings, the complementary treatments, the amenities, and even the scenery. 
Services provided at rehabs abroad can include a wide range of offerings such as access to different types of individual and group therapies and holistic wellness practices such as yoga, meditation, fitness training, or massage. Some rehab clinics will also offer access to advanced technologies like transcranial magnetic stimulation (TMS), a gentle treatment for depression that is effective at relieving symptoms of depression for those who have not responded well to medication. 
If you are travelling for drug rehab, you'll also want to note options for medical treatment, such as onsite detox. This allows you to safely detox at the treatment centre under medical supervision, with staff nearby to make sure you are comfortable and supported during this first stage of treatment.
When you choose to undergo rehab in a foreign country, you're presented with a wide variety of choices from the get-go. Most of them are more affordable than high-quality inpatient clinics in a place like the United States or Australia, while retaining the same level of care and expertise you deserve. Whether you want to go to treatment in Thailand or another country that's far away from your place of residence, you're much more likely to find a program that suits your preferences as opposed to being limited to what's available in your area. 
Whatever you imagine as the perfect treatment experience can probably be found, but it might not be found close to home.
Are you looking for a good value?
Just because you can afford to pay top dollar for quality treatment doesn't necessarily mean you want to. One huge advantage of travelling abroad for treatment is that you can often get excellent quality care for a fraction of the cost. 
This is even more important for individuals who aren't making as much money, but want to get the best possible care without having to resort to borrowing funds. Inpatient rehab in Southeast Asia is much more affordable than in Western countries. You don't have to settle for less in your home country. Abroad, you'll receive top quality care with much higher chances for a complete recovery. Ultimately, that's what matters the most. 
The Dawn has excellent facilities and staff, most of whom have been educated and trained in the West, and your stay here will cost less than half of the typical 40,000 USD/30,000 GBP monthly rates at a US or UK facility with a similar level of care. World travellers and expats have known for years that a dollar or pound goes further in Thailand. Now you can get that same value in addiction or mental health treatment when you travel for rehab.
Is there somewhere you want to go?
Getting treatment for addiction or mental illness is a serious matter, but that doesn't mean recovery is all about grim determination. Taking time to have fun and relax is a crucial part of any recovery plan. When you're wondering, "should I travel for rehab?" consider that going abroad can provide opportunities you might not have at home. One of the many benefits of travelling for rehab is the opportunity to have new experiences in a different culture. Not only can these be fun, exciting, and relaxing, but they can totally change your perspective. What's more, people often feel nervous about entering treatment, especially inpatient treatment. Entering treatment in a place you've always wanted to visit replaces anxiety with excitement. It's also a kind of reward for making a commitment to get healthy. 
Alongside the best possible care, The Dawn patients are also exposed to all the best things Thailand has to offer: picturesque landscapes, world class cuisine, and a myriad of activities that will help you take your mind off the struggles you've gone through. We're not just a rehabilitation facility — we're a wellness centre as well.
Getting Well at The Dawn Rehab Thailand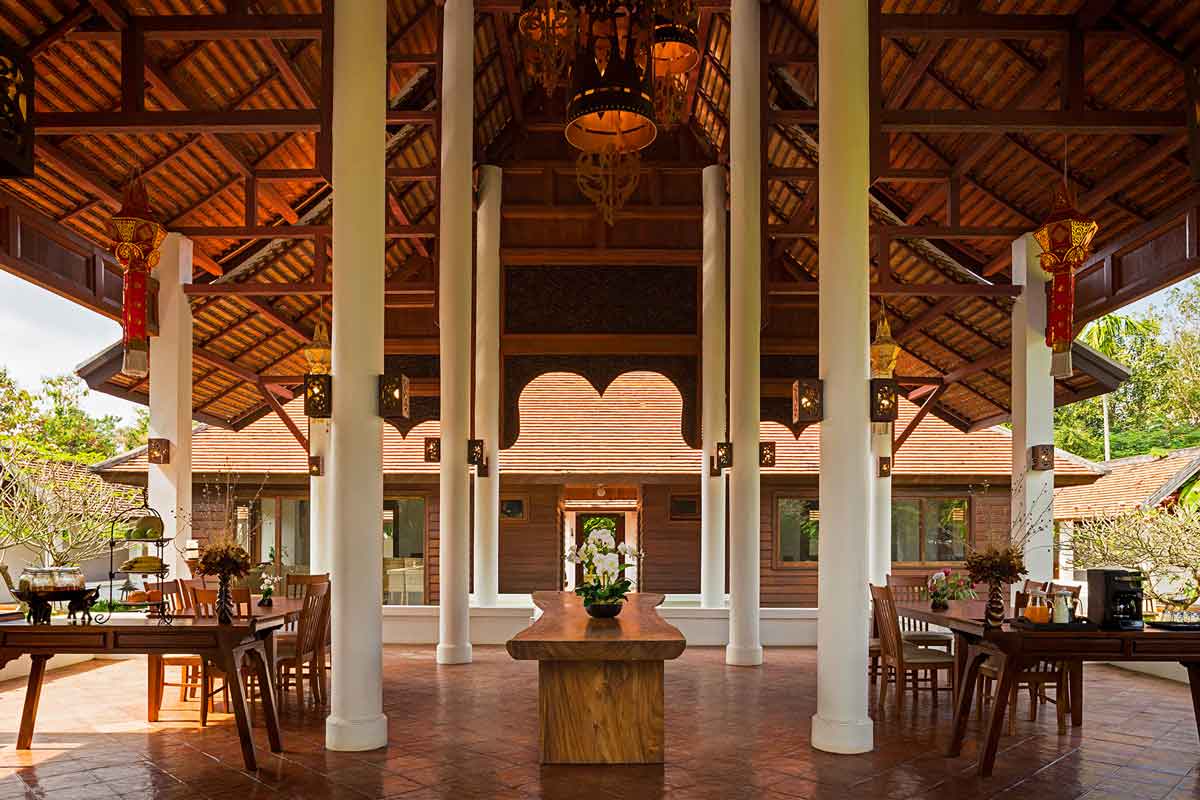 The Dawn Wellness Centre and Rehab Thailand is a uniquely designed rehabilitation and wellness facility created to foster an environment of personal growth and healing for people who want to change their lives and overcome addiction or mental health issues.
Internationally accredited by the American Accreditation Commission International, and nationally licensed by the Thai Ministry of Health, The Dawn offers tailor made plans that cater to each individual's needs by using a comprehensive, holistic treatment method and modern techniques with proven results. The Dawn treats a broad range of disorders, including substance, sex, and gambling addictions, depression, anxiety, and trauma. 
Our world-class facilities are designed to get the most out of your treatment, but also help you relax and unwind after a long day of self-improvement and recovery work. When you choose The Dawn for your inpatient treatment, we will not only help you recover, but also ensure that you'll make plenty of good memories during your rehab in Thailand. Our offer includes: 
Art therapy 
Mindfulness and meditation exercises 
Yoga 
Relaxing massages 
Luxurious accommodation, equipped with high-speed internet, flat-screen TVs, king-size bed, and an outdoor balcony 
Weekly excursions to immerse yourself in Thai culture 
…and more! 
We work with each client to create a highly customised treatment and aftercare plan to ensure the best opportunity for a successful, sustainable recovery after they return home. Call us today for a confidential consultation to learn more about The Dawn's programmes.
Q: How long do most people spend in rehab abroad?
A: If you are considering travelling for rehab, the length of stay typically varies between 30-90 days, depending on the severity of your addiction, as well as how many different stages of treatment occur onsite. Those who prefer support beyond basic early treatment will typically stay more than 30 days when they travel for rehab as part of their overall treatment plan.
Q: What support can I receive after completing rehab abroad? 
A: At the Dawn, we understand that one cannot completely recover from addiction or mental health issues in 30, 60, or even 90 days. Recovery is a lifelong process, and the period after you leave our facilities and return to your daily routine back home is one of the most crucial stages of that process. 
This is why our patients can count on a comprehensive Aftercare support program that includes free weekly group counselling sessions where you can address your concerns, share your experiences, and get advice at a convenient time for you. Our sessions are dispersed across different time zones to accommodate all of our international patients, so regardless of whether you live in the UK, US, Australia, or Asia, you can be certain that you'll have access to a session. 
If you prefer individual therapy, you can also take part in one-on-one sessions as part of the Aftercare support program at an additional fee. 
Q: How is the holistic treatment method different from traditional rehab? 
A:  Most inpatient rehab facilities in the West focus on comprehensive psychotherapy and evidence based treatment to help patients recover. At the Dawn, we combine this Western approach with holistic healing, which incorporates our wellness program into the treatment. As a result, we offer comprehensive, individualised treatment plans that won't only address your addiction/mental health issues and their roots, but also allow you to achieve overall wellbeing and better mental resilience through a myriad of wellness-focused activities. These include meditation, massages, and yoga, as well as art therapy and physical fitness. 
Our unique approach will help you reduce your stress levels as you undergo intense therapy, which, while essential, can take a toll on your wellbeing. At The Dawn, we recognize that there is much more to our patients than their struggles. By making sure that you're happy and satisfied outside of treatment, we help you adjust to your new lifestyle all throughout your stay in Thailand. 
Q: Can I count on medical care when undergoing rehab abroad?
A: Severe addiction and mental health problems can pose a danger to your health and physical wellbeing. This is why at The Dawn, a professional nursing team remains on premises of our facilities 24/7, ready to assist you with any immediate health concerns you may have. We understand that withdrawals from many addictive substances can be life-threatening, and our facilities are a reflection of that – we want to ensure that your detox process is as safe and comfortable as possible. 
When it comes to medications, our on-site psychiatrist handles all prescription drugs, making sure that each patient receives the right doses and active ingredients they need to recover safely. 
Q: How is the price of inpatient rehab abroad determined? 
A: We take up an individual approach to each patient who arrives at The Dawn's facilities. We don't categorise our patients by substance, severity of addiction, or other factors, and our pricing reflects that. We base our rates on your individual circumstances, your preferred length of stay, and our initial conversations. Regardless of what the final amount turns out to be, you can rest assured knowing that your treatment will be much more affordable than at Western facilities – 2/3rds of the price, to be exact. 
Q: Are visits allowed at inpatient rehab abroad? 
A: Absolutely. Your loved ones can visit you as you undergo treatment at The Dawn, although there are certain limits imposed, to preserve the effectiveness of your recovery process. Visits usually take place during the weekend, and last for no longer than two hours, to keep your treatment schedule intact. All visitors also need to be pre-approved by your focal counsellor to make sure that the visit will not have a negative impact on your recovery. We recognise the therapeutic value of interacting with family and friends during rehab, but in some cases, such visits can work to the detriment of the patient, especially when they occur too early in the rehab process.