Sometimes, the best presents are the ones we give ourselves. This holiday season, consider giving yourself the gift of recovery from addiction.
Decorations are going up, lights are being hung, and in your heart there is a sinking feeling. Despite the festivities, the holidays are a challenging time for many, especially if you're struggling with addiction. Family issues, office parties, conflicting emotions and painful memories can all be factors in why your dependency may seem to worsen during this season.
This is why there is no better time to go to rehab. Recovery is an incredible gift to yourself. In rehab you will get the tools you need to cope with stressors, understand and come to terms with the root causes of your addiction, and ultimately lead a healthier, happier life. Here are six reasons why the holidays are an ideal time to pack your bags and join a supportive community ready to help you heal. 
Reason 1: The holidays aren't feeling so happy
Is your holiday spirit characterised by unease, stress, or flat-out dread? Many people have conflicting feelings about the holidays, and for those struggling with addiction, this season can be deeply challenging. Holiday parties and gatherings often present situations where intoxication is encouraged, which can be particularly problematic if you're grappling with drug or alcohol abuse. 
Studies have shown that anxiety, stress and depression are common for people during the holiday season. These stressors, as well as the presence of alcohol or drugs during holiday celebrations, feed into increased rates of drug and alcohol use. The holiday season is one of the most dangerous for people living with an addiction, as overdose rates reach their peak during this time of the year.
Reason 2: It's a family thing
The holidays often focus heavily on family time and shared nostalgia – two things that can be deeply painful for someone struggling with addiction. Often those living with dependency have people or events from their past that have played a major role in their addiction. Revisiting or being confronted by these factors in a non-therapeutic setting can be both triggering and dangerous for your mental health.
Holiday family events may also be a source of stress, whether you are estranged from your family due to your substance use, you are dealing with the loss of a loved one, or are attending family functions where you are expected to maintain sobriety. These situations can also put you in close contact with people who may exacerbate your addiction or complicate your journey to recovery.
Reason 3: There's no time like the present
You know addiction is a risky business. Though you might feel like you can handle the risks, the simple fact is that the long-term health effects of drug misuse are serious and inevitable, not to mention the potential risks to your relationships, career, and finances. While you might be trying to convince yourself that the holidays aren't the "right time" to check into rehab, when you are facing the consequences of an addiction, the right time is right now. 
Health impacts of long-term drug abuse include:
Heart or lung disease
Cancer
Mental health disorders
Stroke
Kidney and liver damage
Making the decision to check into rehab is an important step forward in taking control of your health and future, and ensures that you are in a place where you can focus fully on recovery. 
Reason 4: You've got space in your schedule
Things have slowed down at the office, school is on break, and you have been wondering what to do with your free time. While your first thought may be that rehab is hardly the break you need from your stress, consider the physical and mental costs of living with an addiction. 
The right rehab centre will be able to help you overcome your addiction while also strengthening your physical health and mental wellbeing. Some inpatient programmes such as The Dawn include a holistic approach to treatment, offering courses in meditation, yoga, art, and fitness training alongside psychotherapeutic sessions.
Reason 5: Embracing celebration without intoxication
The holidays are full of parties, events, and gatherings where drinking or drug use may be present and equated with "having a good time." At times it can feel impossible not to join in, and you may be wondering if there will ever be a way to really celebrate sober.
 When you go to rehab, you learn how to live life without feeding an addiction. This means that you will be guided through ways to cope with stress, loss – and even celebration, without having to use. This is a critically important step forward in a sustainable recovery.
For many people, this means rediscovering what makes them feel happy and content. You may have noticed that your addiction has dulled your emotions as your brain becomes more and more dependent on a particular substance. Rehab and recovery helps those emotions to re-emerge, shattering the narrow lens of addiction and allowing you to connect with the diversity of ways people experience excitement and joy.
Reason 6: Making the New Year yours
Though the concern of loved ones may certainly play a role in your decision to seek treatment, ultimately you should be doing it for you. The holidays are a time of year when many people are focused on how to improve their lives and positively change their mindset. Personal goals of all types, including those about committing to recovery, are most easily kept when there is a community of support that can continue to encourage you even when change feels uncomfortable or difficult.
Instead of burying yourself in the same destructive habits this holiday season, you can make this new year one of renewal.  Going to rehab ensures the compassionate support of addiction specialists whose top priority is to guide you through a successful, sustainable recovery. You will be able to focus on yourself, your health, and your well being away from the stresses and triggers of the holiday season.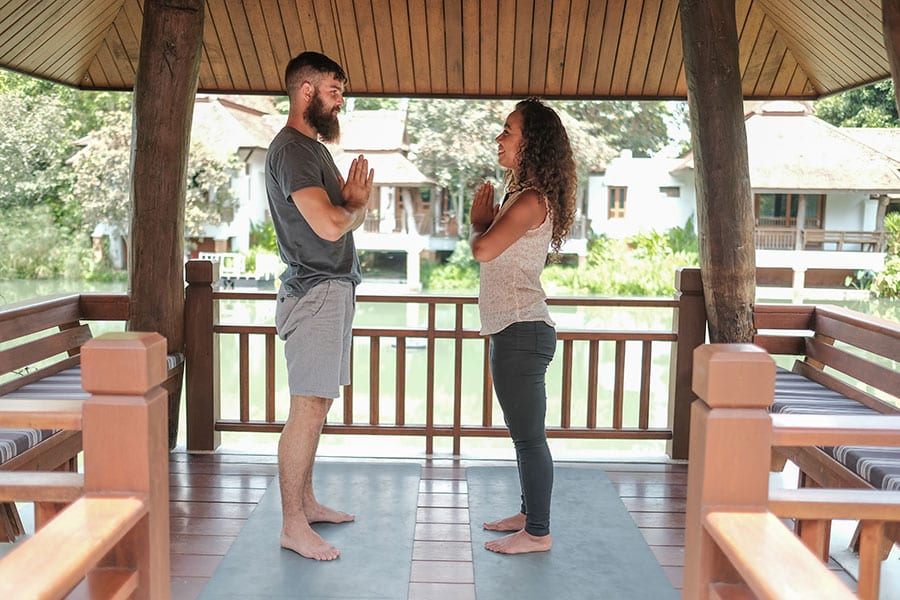 A Gift to Yourself: The Dawn Wellness Centre and Rehab
The Dawn Thailand rehab center is a uniquely designed rehabilitation and wellness facility that has been created to foster self-discovery, personal growth and healing. Our clientele come to us wanting to change their lives for the better by overcoming addiction and embracing a full, healthy recovery. 
A Physical and Emotional Journey: Drug Rehab in Thailand
Located on a lush, serene riverside just outside the city of Chiang Mai, Thailand, The Dawn offers a peaceful sanctuary far away from the stressors and triggers of the holiday season. Licensed by the Thai Ministry of Health, The Dawn's custom programming is tailored especially to your needs. Our team of specialists utilises a holistic "Twin Pillars" approach, blending effective Western psychotherapeutic techniques with proven Eastern wellness practices to treat all aspects of your addiction.
A Caring Community
The Dawn's boutique size allows for approximately 35 clients in residence at any given time. This allows our team the time to get to know you. We don't just look at the issue that brought you here, but your life as a whole, and all of the experiences that got you to where you are now. Similarly, our  smaller numbers, make it easy for you to make friends with others in your programme or even those in another programme. And the support you get from your peers can turn into special lifelong friendships.
This holiday season, give yourself the gift of health and happiness. Call us today to learn about how we can help guide you on your journey to recovery.