The journey from child star to fully fledged pop princess can be a rocky road for aspiring young artists. The recent news of the Demi Lovato overdose and her admission to rehab follows her much-publicised battles with depression, addiction and drug abuse.
In her recent documentary, 'Simply Complicated', American singer, songwriter and actress Demi Lovato candidly revealed: ''My first time doing coke I was 17, working on the Disney Channel. I was with a couple friends and they introduced me to it.''
The tragedy of her most recent relapse and overdose becomes more complex when we consider that she had tried hard – and successfully – to turn her life around in a positive direction. Just this March, she posted a tweet saying that she had, 'Just officially turned six years sober'.
With such a promising future ahead of her, why did she go back to using dangerous drugs? What does this mean for others who are trying to fight their own addictions? And how can the loved ones of addicts recognise the signs of relapse?
Her Journey into Addiction
Over the last decade, Demi Lovato has enjoyed huge success and gathered a loyal fan following. Of course, with such fame comes significant media attention. As with fellow Disney child stars Miley Cyrus and Selena Gomez, the sudden pressures of stardom can take a toll on these fragile young artists.
After pulling out of a nationwide tour in 2010, subsequent visits to treatment facilities for depression and various physical and emotional issues became increasingly common for Demi. It soon became apparent that substance abuse was having a significant effect on her emotional state.
In her recent documentary, Demi acknowledged her battles with depression and says that she had been "self-medicating" with drugs and alcohol since her teenage years. She had hoped that this frank admission would serve as a warning to her young and impressionable fan base, and her tweet from March had suggested that things were on the right track and that her troubles were behind her.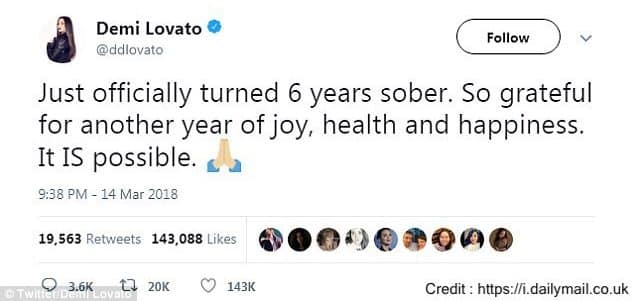 The Demi Lovato Overdose in July 2018
Fast forward to July and the news of another Demi Lovato overdose is making headlines after the singer's latest relapse. The singer spent two weeks in a Los Angeles hospital after a reported heroin overdose, whilst other reports suggest she had also had struggles with alcohol, cocaine and oxycontin usage in the weeks leading up to her hospitalisation. Her own lyrics, ''Momma, I'm so sorry, I'm not sober anymore'' from her June release Sober, described her latest fall from abstinence.
Those of us who cannot rely on media coverage and poignant song lyrics from our friends and loved ones can have more difficulty recognising the signs of relapse. For people who have had or are having struggles with substance abuse and addictions, the danger of a relapse is never far away. Maintaining sobriety is often a daily struggle, and a strong support network from family and friends can make a huge difference for someone in recovery.
The Stages of Relapse
The warning signs can sometimes be difficult to read, and no two people in recovery follow the exact same path. A common misconception is that relapse is a single moment where someone gives in to their craving and falls off the wagon. In fact, relapsing tends to be a slower process where the person gradually gives in to the triggers of their addiction. Understanding the different stages of relapse can help to identify when a loved one may need your help.
Emotional Relapse
The first stage of relapse is the 'emotional relapse stage'. During this stage, the sufferer may:
Bottle up their emotions, becoming more reclusive and distant
Isolate themselves from others
Not attend recovery meetings
Go to meetings but not share or contribute
Focus on others and their problems
Suffer from poor eating and sleeping habits
Mental Relapse
The second stage of relapse is the 'mental relapse stage'. Signs during this stage include:
Cravings for drugs or alcohol
Thinking about people, places and things associated with past use
Minimising the consequences or dangers of past use
Bargaining or lying about their actions
Thinking of ways to control using
Looking for relapse opportunities
Physical Relapse
The third stage of relapse is the 'physical relapse stage'. Physical changes that you may notice in someone relapsing include:
Cold, sweaty palms; shaking hands
Red, watery eyes; pupils larger or smaller than usual
Unusual smells on breath, body or clothes
Extreme hyperactivity; excessive talkativeness
Runny nose; hacking cough
Frequent rubbing of the nose
Frequent twisting of the jaw, back and forth
Deterioration of hygiene or physical health
Why do People Relapse and What can We do?
Recognising the early warning signs of relapse can potentially make a huge, sometimes life-altering difference for loved ones who may be going through what can be a severely lonely and testing time.
Demi's tragedy, as with any other form of overdose, could have been avoided if the signs had been recognised and if she had been given careful, constant support. Friends and loved ones are always the first point of call to intervene and can always make a difference by acting to help someone who is in need.
It is important to understand that addiction is a chronic and incurable disease. For people with a substance abuse disorder, the only way to stay clean is to permanently change their behaviour to avoid the substance that is causing them harm. Similar to the way diabetics need to be mindful of their sugar intake, people struggling with addiction must restrict their access to the chemicals that can disrupt healthy living.
Why is Rehab Important for Recovery?
Addiction can happen to people from different walks of life, regardless of age, race, or social status. And treatment is a necessary step on the road to recovery and living a happier, healthier life.
Entering a rehabilitation centre is therefore an important and brave step towards recovery. Getting clean and healthy is extremely hard work, and not an ordeal that anyone should have to face alone. It is therefore essential to read the warning signs and give people the help they need before it is too late. The decision to seek professional help and support can truly save a person's life.
The Dawn Rehab Centre in Thailand
With a fully licensed team of addiction experts and medical professionals, The Dawn offers a range of affordable, high quality treatments. We respect our clients' confidentiality and provide an ideal environment to help people prevent and recover from a relapse.
Our highly-personalised and intensive treatment service includes a relapse assurance guarantee and online aftercare support (free of charge) for 8 weeks after treatment. Most importantly, you'll have the peace of mind that comes with knowing that the people you care about are receiving the best possible treatment.
Our addictions specialists are ready for your call and will be happy to explain how The Dawn will help you or your loved one move forward to a healthier, more fulfilling future. Contact us now for expert help.